Google have produced a plugin which enables you to create a Google Meet calendar invite from within Outlook on the web (Cloud Email).
How do I install this?
First logon to Outlook on the web (Cloud Email). If you are unsure how to do this, please see the following article – https://helpdesk.burnley.ac.uk/knowledge-base/email-sign-in/
Click the calendar button at the bottom left of your email screen to launch your calendar as shown below:

3. Click New event and then press the three dots on the top right, then choose "Get Add-ins"



4. On the "All" tab as shown below, search for "Google" then press "Add" on the "Hangouts Meet Add-In"

5. On the next screen, press continue. Once that has been added, press the cross on the top right to go back to your meeting screen
6. You should now have a new Google Meet button as shown below. Press that button and then click on "Settings"

7. Press "Sign In" and follow the on screen instructions to sign into your BURNLEY COLLEGE google account. Please press allow for the permissions requested.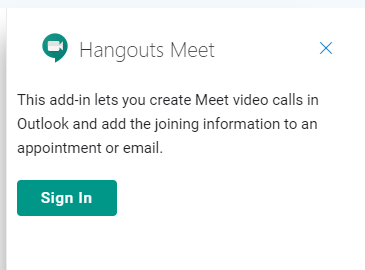 8. You can now press the "Add a meeting" button and it will add all the relevant joning information as you can see below